We're like totally handmade in the San Fernando Valley.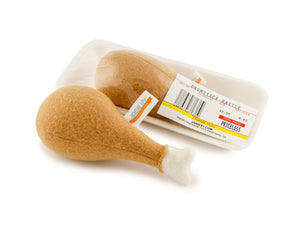 Move over Diaper Cakes
Drumstick rattles are the perfect gift for the fun new parents in your life. From meat eaters all the way to vegans, this is always a hit at baby showers--from the fun deli packaging to the rattle inside this clever drumstick, you'll definitely win the "best baby shower gift" competition.
And yes, it's always a competition.
Win "Best Baby Shower Gift" NOW
Emmett the Bison
Emmett has quickly risen to the ranks of best sellers for us. Between his little faux leather nose to those soft horns, it's no wonder he's been migrating into homes all around the world!
take him home